One of the last restored 1940s factories in downtown Dexter, Michigan has become the home for my artwork. Click here for more photos and details of the building as it went through restoration.
The Groosh Wall is an ongoing artwork display at 8080 Grand Street. Featured artwork will hang for one month with the first rotation planned to coincide a month after the opening of our building neighbor Erratic Ale in early 2020. I mean, I might as well shoot for some foot traffic before pulling the art. Each Wall will be memorialized here with the artwork descriptions originally shown on location.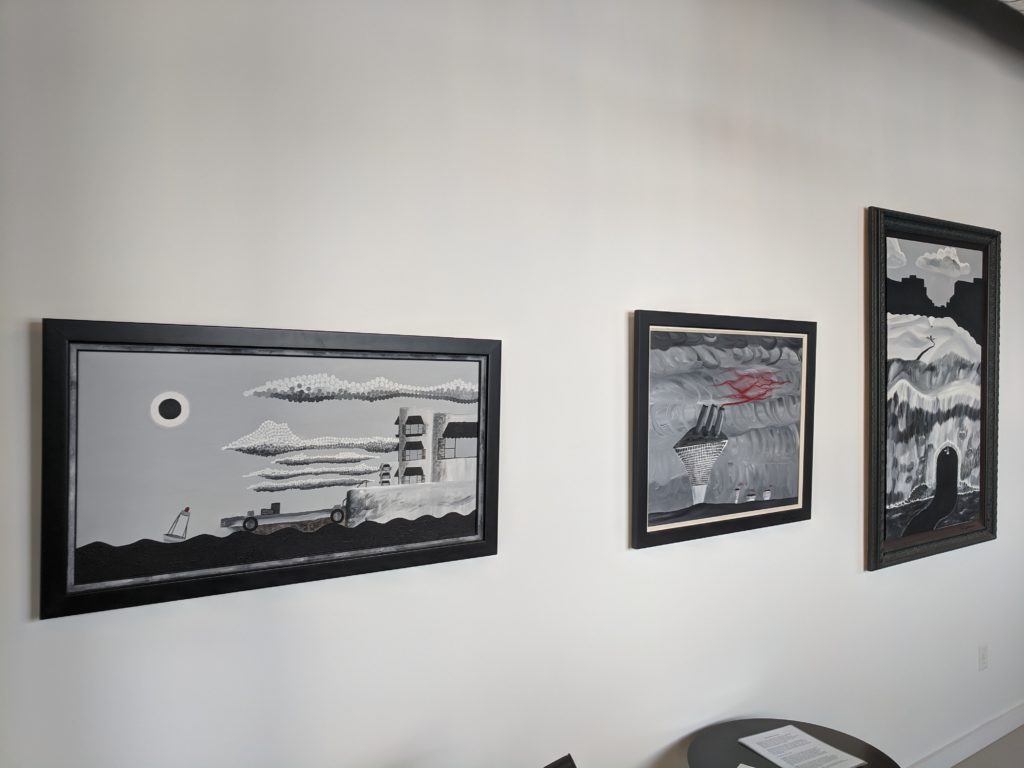 Black White Red series began with thoughts back to Ansel Adams' photography. You know the landscape photographer and environmentalist known for his black-and-white images of the American West. In my day, it was a rare college house that didn't have a framed poster of his work adorning a hand-me-down couch or bedroom wall. His photography was beautiful.

Fast forward to my painting in black and white, shades traditionally associated with old school photography, and then add something that Ansel didn't or maybe even couldn't. Add a touch of color – Red. Red being a symbol for warning, danger, stop, passion, love. Each one of these paintings tells a story and the key driver in that story is wrapped up in the color Red.

Paintings from left to right:

Vs. Nature – When living in Laguna Beach in the late 90s, we were inundated with rain from El Niño. Laguna Canyon was closed for almost a week before and after mud slides. All the signs from nature were there, don't build in these areas, don't push development towards the shoreline, water and the ocean are relentless. "Vs. Nature" paints the picture of our incessant drive to compete against nature with a simple buoy warning us: Go back, you will eventually lose.

Ships – The story of corporate greed at the expense of their employees and the environment they feed off. Companies get fat off the land. And like ships through the oceans they effortlessly plow their way through their surroundings, bleeding the world around them to further their bottom line. Take down that ship and three more are waiting in its wake to take its place.

The Road – My highly regarded, soul enriching drives across the country through the mountains, plains and cities. All the while listening to music on the radio.