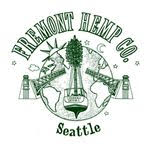 The Fremont Hemp Co. was founded in 1994 by Cory and Erica Brown in Seattle, Washington. I was an early partner in the parent company ITR Enterprises having met Cory our freshman year of college at San Diego State University. Years later, when I read his University of Washington thesis paper on the positive environmental impacts of hemp in 1993, I was hooked. It was hard not to recognize the potential of this great weed. After the store opened, I left my corporate job to drive cross country to get-in on the bleeding edge of an environmental, recreational and medical movement that was in some ways, 20 years ahead of its time.
Our store was in the heart of Fremont, a suburb just outside Seattle proper. It was adorned with everything made from hemp: clothes, shoes, bags, paper, food, oils, string and of course rope. Our goal was to provide a retail environment where people could see, touch and taste hemp. To the contrary, we stayed away from selling anything marijuana related that you would see in a typical head shop. We felt if this was going to succeed in needed to succeed on the merits of hemp as an alternative to trees, cotton and the like. That being said we still were involved in the medical and recreational movement by supporting petitions for signature in our store, attending events and sponsoring almost anything asked of us.
Opening a retail store in an infant industry had big challenges. Relying on new suppliers riding the hemp wave meant our inventory changed frequently. Certain people would come through town with boxes of hats, clothes or bags they made. We'd buy them for resale in our shop. But many of those suppliers made inferior products or in some cases were not around when it came time to re-up. We eventually settled into reliable suppliers, started our own Home, Pet and Baby Clothes lines while maintaining a Nordstrom's like service and return policy. After seven days a week for four years, we decided it was time to let someone else have a go and sold the business to a Microsoft couple. They tried their hand at retail for a year or two but eventually closed the store.
Living on a sailboat with my business partners, running a hemp company in Seattle was one incredible experience. Cory and I remain close friends to this day.